Commodity Market Trading Course in Adambakkam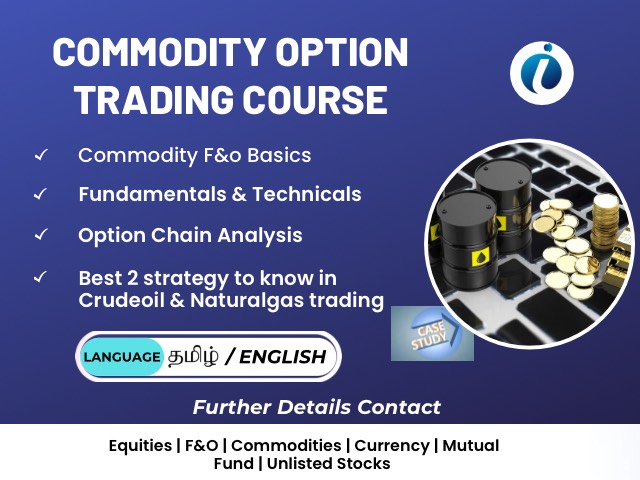 Welcome to the commodity market trading course in this course will be covering the important concepts and techniques to be used in commodity market trading weather. If you are a beginner or an experience it this course will provide you the proper knowledge and the important tools improve your Trading skill and achieve a better result in commodity Trading.
What is Commodity Trading?
Understanding about the commodity market and the product available for trading in our Indian market
 how it can be an advantage for a trader who would like to diversify his trading or else a person who is doing job or business or even a student who can trade into the commodity market and use a great opportunity as a market is open from 9:00 am to 11:30 PM and one more impart thing to know is in commodity market trading there are very few products to trade like gold silver, copper, aluminium, zinc, lead, crude oil and natural gas and all the products have mini product as well for small capital traders.
Commodity vs stock market:
Understanding the difference between the commodity market and the stock market and understanding the advantage of Trading gold and silver over the online trading vs physical trading calling.
Option:  Commodity market have launched Option contract just few years back and liquidity and volume are good in product like crude oil option, natural gas option, silver option.
Understanding the option types and the nature of call and put option, what is option buying & option selling.
High margin: Understanding why an option seller needs huge margin than an option buyer.
Order Types: Types of orders are there in to the commodity market
Margin calculation: A simple understanding how the margins are calculated for future and option.
Option Greeks: Delta, Theta, Gamma, Vega, rho.

Option chain:  Option chain will help you to understand which strike has good liquidity with good buyer and seller volume with a proper small spread in order to trade in option.
Options Greek: Delta, Gamma theta, Vega and rho.
Option Strategy: Non directional Trading strategy – Short straddle and Short strangle strategy to earn generate a good consistent income which can be traded by after 8:00 pm and end your trading by 11:00 pm.
By the end of this course, you will be able to understand about commodity market and how to apply non directional trading strategy trading opportunities and increase your profits by managing your risk in all the market condition.